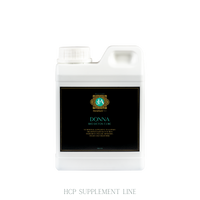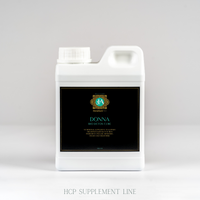 Nutritional supplement to support the hepatic & renal function and provides natural drainage of the system by elimination of toxins. 

Donna Bio Detox Cure is particularly recommended for the removal of buildup toxins in Sporthorses
Furthermore it's adviced for horses with a high starch ration, overweight horses and older horses
Complementary feed for horses. DONNA contains plant extracts including artichoke and boldo, known to eliminate toxins and support hepatic and renal function. The kidneys and liver have vital functions in the horse's body as they are responsible for filtration, nutrient absorption, digestion and waste disposal.
 More info HERE
Instructions for use: mix with feed 
 Add 60ml of DONNA to the ration the day before and the day of an intensive training. For maintenance, DONNA can be used at a rate of 30ml/day.
Sporthorses: provide a systematic monthly intake during training. In the event of a competition, start the administration 60ml of DONNA 3-4 days before the event .
CONTENT: 1 LITRE
Composition: Active marine ingredients, sodium chloride, artichoke extract, boldo, goldenrod
Formula for horses - keep out of children's reach - store in a cool, dark and ventilated place - shake well before use - close tight after use
 Make sure to check out our other supplements!
hoof care products for horses - natural horse care products - horse skincare - fly repellents for horses - fly spray for horses - best horse fly repellent - shampoo for horse - equine care product - equine shampoo - shampoo for white horses - equestrian headset - riding bluetooth headset - horse riding instructor headsets - horse riding instructor microphone - equestrian wireless communication systems - wireless horse instruction system - riding headset - equest saddle pad
Technical specifications:

Shelf life at least 12 months, see label
Protect from direct sunlight
Storage temperature: +10 °C to 25 °C
Due to the use of natural, high-quality oils, the product can solidify at too low temperatures, which can temporarily make use more difficult
Active substance storage with delayed release on molecular level
Produced and bottled In Germany
The HorsecarePRO productline...
...is newly developed for horses. Our advanced productionproces and combination of mutually reinforcing ingredients garantuees that the product has a longlasting effect, which increases its effectiveness substantially. The ingredients are released slowly and evenly and can therefore maintain the desired effect up to 48 hours, which makes our productline much more effective than any other available on the market today.