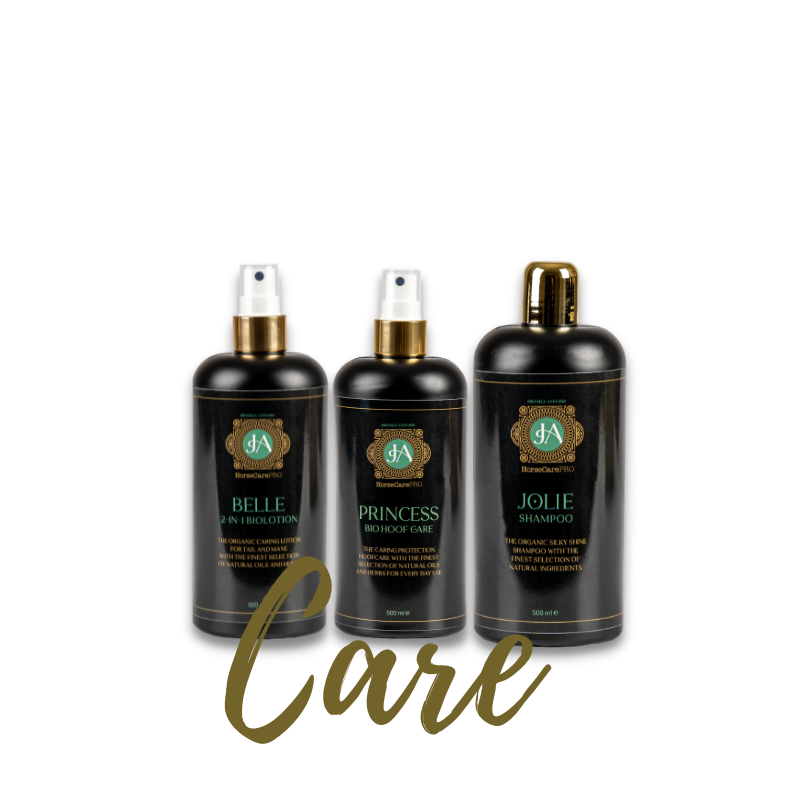 Discover the power of the Johanne HorsecarePRO-line with this
limited FREE offer (*)!
Testset with 3 of the most powerful products!
Look, smell, feel, see the results and be convinced!
Choose between a CARING or REPAIRING set.
1 PACKAGE PER ADRESS (Caring OR Repairing)
Look at the productfiches of the individual product for more information
WHILE SUPPLIES LAST
DISCOVERY CARING-PACK
Belle 2 in 1 Biolotion ultra 50ml. the organic caring lotion for tail & mane with the finest selection of natural ingredients, including Aloë Vera. Natural horse care product For tail and mane with the finest selection of natural oils and herbs, including ALOË VERA. 
Princess Bio Hoofcare 50ml. the hoofcare for everyday use with the finest selection of natural oils. 
Jolie Shampoo 100ml. Highly effective special horse shampoo for healthy fur & skin cleaning with a calming Lavender smell
DISCOVERY REPAIRING-PACK
 Tigra Bio Skin Repair 50ml. Keep your horse's coat clean and his skin healthy, with our extensive range of products TIGRA Bio Skin Repair. Horse skin care with organic formula against itching, fungal, mite and flea infestations.
Anti-Itching shampoo 100ml.  special shampoo that supports the treatment of itching caused by allergies, mite-fungal & flea infestation
Dinky Bio Hoof Repair 50ml.  The repairing and caring organic hoofcare products for horses with the finest selection of natural oils and herbs is a sustainable solution for healthy hoofs.
At Johanne, sustainability and technology go hand in hand. We constantly strive to create powerful formulas based on natural ingredients.

Our advanced production process and combination of mutually reinforcing ingredients guarantee that the product has a long-lasting effect, and is much more powerful and effective compared to anything else available on the market today!



hoof care products for horses - natural horse care products - horse skincare - fly repellents for horses - fly spray for horses - best horse fly repellent - shampoo for horse - equine care product - equine shampoo - shampoo for white horses - equestrian headset - riding bluetooth headset - horse riding instructor headsets - horse riding instructor microphone - equestrian wireless communication systems - wireless horse instruction system - riding headset - equest saddle pad
Technical specifications:

Shelf life at least 12 months, see label
Protect from direct sunlight
Storage temperature: +10 °C to 25 °C
Due to the use of natural, high-quality oils, the product can solidify at too low temperatures, which can temporarily make use more difficult
Active substance storage with delayed release on molecular level
Produced and bottled In Germany
The HorsecarePRO productline...
...is newly developed for horses. Our advanced productionproces and combination of mutually reinforcing ingredients garantuees that the product has a longlasting effect, which increases its effectiveness substantially. The ingredients are released slowly and evenly and can therefore maintain the desired effect up to 48 hours, which makes our productline much more effective than any other available on the market today.