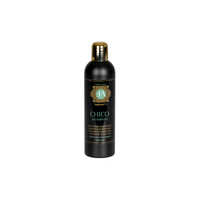 CHICO Shampoo for sensitive skin & puppies
Natural dog/puppy shampoo with the finest selection of natural oils and herbs, including ALOË VERA.
Special dogshampoo for sensitive skin & puppies
Special formula with silicon oil made from quartz sand and aloe vera, penetrates deeply into the skin and hair roots. Feeds, protects and improves combing of the hairs. Thanks to its mild ph-neutral and solvent-free ingredients, this shampoo is extremely well tolerated. 
Size: 250ml
Application:
Shampoo concentrate needs to be diluted in the ratio 1:10. Gently massage the solution into the wet coat until it foams. Avoid the area around the eyes and mouth. Please leave the shampoo on for about 5 minutes and then rinse well and dry the fur as usual  Shake well before use
Amphoteric surfactants below 5%, water, anionic surfactants less then 5%, Aloe Vera extract, silk protein. INCI: AQUA, SODIUM LAURETH SULFATE, COCAMIDOPROPYL BETAINE, DISODIUM LAURETH SULFOSUCCINATE, OLOE BARBADENSIS EXTRACT, HYDROLYSED SILK
care products for dogs - natural dog care products - dog skincare - fly repellents for horses - fly spray for horses - best horse fly repellent - shampoo for dogs - equine care product - dog shampoo - shampoo for white horses - equestrian headset - riding bluetooth headset - horse riding instructor headsets - horse riding instructor microphone - equestrian wireless communication systems - wireless horse instruction system - riding headset - equest saddle pad - best dog shampoo - puppy shampoo - best puppy shampoo - shampoo for dogs - shampoo for white dogs - dog shampoo and conditioner - dogshampoo for sensitive skin - 2 in 1 shampoo for dogs - dogshampoo for dry skin
Technical specifications:

Shelf life at least 12 months, see label
Protect from direct sunlight
Storage temperature: +10 °C to 25 °C
Due to the use of natural, high-quality oils, the product can solidify at too low temperatures, which can temporarily make use more difficult
Active substance storage with delayed release on molecular level
Produced and bottled In Germany
The DogcarePRO productline...
...is newly developed for dogs. Our advanced productionproces and combination of mutually reinforcing ingredients garantuees that the Johanne dogshampoos have a longlasting effect.
The active components are released slowly and evenly to the hairs and skin, which makes our productline much more effective than others available on the market today.